Welcome to Poros, a captivating island in the Saronic Gulf, Greece. Comprising of two main islands, Sferia and Kalavria, Poros offers a unique setting for visitors to explore.
Sferia, the smaller of the two islands, is where you'll find the charming old town with its narrow cobblestone streets, traditional whitewashed houses, and lively waterfront promenade. Stroll through the alleys, where bougainvillea blooms cascade from balconies and vibrant tavernas beckon you with their authentic Greek flavors.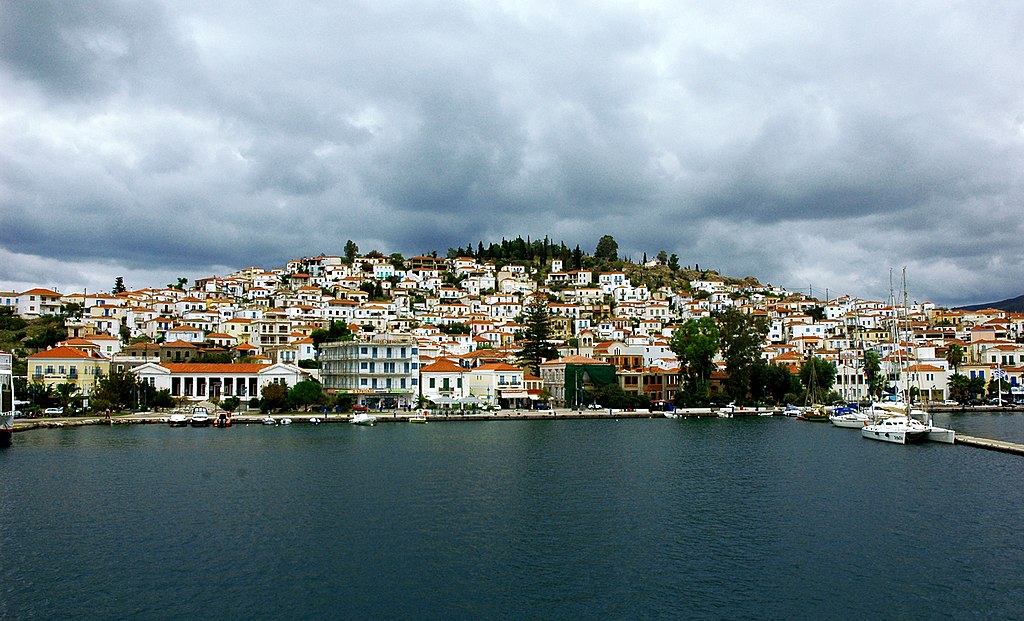 Kalavria, the larger island, boasts verdant hillsides dotted with pine trees, offering breathtaking views of the surrounding azure waters. The island's diverse landscape presents opportunities for outdoor enthusiasts, from hiking and biking trails to tranquil beaches and secluded coves perfect for swimming and snorkeling.
Don't miss the chance to visit historical landmarks like the Clock Tower, a symbol of Poros, and the Temple of Poseidon, an ancient sanctuary that provides a glimpse into the island's rich history.
Whether you're seeking relaxation, exploration, or a cultural experience, Poros invites you to immerse yourself in its unique blend of natural beauty and timeless charm.
Getting to the captivating island of Poros is an easy and delightful journey. If you're traveling by air, the closest major international airport is Athens International Airport (ATH). From there, you have several options to reach Poros.
Care for the scenic route? Embark on a scenic drive from Athens through the breathtaking landscapes of the Peloponnese and take the car-carrier ferry from the picturesque Galata port. During the drive, you can opt in to pass through delightful coastal towns, such as Nafplio and Ermioni, each offering their own unique charm and attractions. Feel free to make stops along the way to explore historical sites, enjoy local cuisine, or simply take in the scenic beauty of the region.
Once you arrive at Poros, you'll find yourself immersed in the island's beauty and tranquility. The main town and its attractions are easily accessible by foot, while taxis and rental services are available for further exploration.
Poros is a treasure trove of sights and beaches, offering a plethora of attractions for visitors to explore and enjoy. The island boasts a rich history and culture, evident in its charming landmarks and archaeological sites. One of the must-see sights is the Clock Tower, a prominent symbol of Poros, offering panoramic views of the island and the surrounding azure waters. Another notable landmark is the Temple of Poseidon, an ancient sanctuary that whispers tales of the island's past.
Feel free to explore the island to the fullest, using this comprehensive guide https://visitporos.com/sights.html
When it comes to beaches, Poros doesn't disappoint. Three of the best beaches that epitomize the island's natural beauty are Love Bay, Russian Bay, and Neorion Bay. Love Bay entices with its crystal-clear turquoise waters and a tranquil atmosphere, making it an ideal spot for relaxation and sunbathing. Russian Bay, with its captivating rocky landscape and emerald waters, offers a unique beach experience. It's also home to the historical Russian Dockyard, adding an intriguing touch to the surroundings. Neorion Bay, nestled near the town of Poros, boasts a sandy beach lined with tamarisk trees, creating a serene and picturesque setting. Its calm waters are perfect for swimming and snorkeling, while the nearby beach bars provide a delightful refreshment after a day under the sun.
Whether you're captivated by the island's landmarks or seeking the perfect beach retreat, Poros has something for everyone. Immerse yourself in the rich history, relax on pristine beaches, and indulge in the stunning natural beauty that defines this enchanting Greek island.